Windows 10 is quite a big thing. So many people use computers everyday and so many of those computers are Windows computers. All of those computer users are getting notifications about Windows 10. They come in to Computer A Services (our sister company) and ask them questions about everything of Windows 10, touching on the famous W's; who, what, when, why, and how. So here's a masterpost of information to answer those questions!
————
What Is Windows 10?

This is a nice and simple question to get out of the way. Windows 10 is the newest operating system released by Microsoft. Microsoft aimed, through releasing Windows 10, to fix their mistakes made in Windows 8. (For those that don't know, Windows 8 was quite a flop for Microsoft as many people didn't approve of the changes for a myriad of reasons, so Windows 10 was Windows 8's redemption.) Windows 10 is a free upgrade for Windows 7 and Windows 8/8.1 users. (Though this 'free-ness' only lasts 1 year.)
————
Who Is Windows 10 For?
A lot of the time, technological upgrades and updates are on a case-by-case basis. Different people have different needs and it is important for users to decide their upgrade-ability based on their specific needs. For example, Windows 10 may cater to users wanting to take advantage of workflow updates such as multi desktop and windows snap (shown below).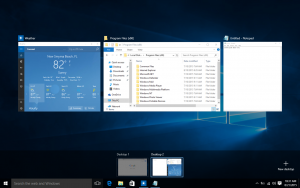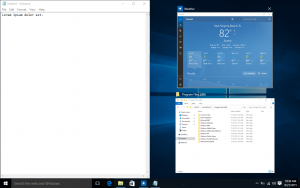 ————
When Should I Upgrade to Windows 10?
Well quite blatantly, the change over to Windows 10 should be held off for a while. Computer A Services techs tell everyone to delay the upgrade for a couple months to allow Microsoft to fix up any bugs and polish Windows 10 to a pinch. This is always recommended as you don't want to upgrade and then face a myriad of missing drivers or a fatal bug not patched by Microsoft allowing virus access or something. Once a couple months pass and Windows 10 is patched up the wazoo, then – and only then – should you click that upgrade button.
————
Why Should I Eventually Upgrade to Windows 10?
Right off, there's a myriad of features! From multi-desktop and window snap (as shown previously above) to the new internet browser from Microsoft to make up for Internet Explorer, Microsoft Edge (shown below). This browser has a brand new engine under the hood with a fancy graphical update and some effective modernization that Internet Explorer really needed. All in all it is a nice refreshing change as internet explorer was dreaded by any computer user younger than 50. Windows 10 has a feature list that can go on and on but just make sure you wait to upgrade a little while or you may not be able to experience these features.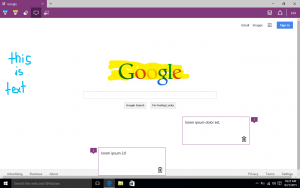 ————
How Do I Eventually Upgrade To Windows 10?
After waiting a little while for Microsoft to work out the kinks of a brand new operating system, you may finally want the thing after such a wait. Well the easiest way is to bring it in to Computer A Services. They'll make sure things go off without a hitch. (Though that's not a guarantee!) Adversely you can do it by yourself by clicking that Windows 10 button down in your taskbar and going through the steps. Though regardless we do want you to come in so if anything goes wrong its then the tech's fault, not yours! 😉
————
For more information you can read Computer A Service's other posts about Windows 10. Though keep in mind they're a bit out of date.
When Should I Upgrade To Windows 10: computeraservices.com/when-should-i-upgrade-to-windows-10/
Windows 10 Comes Out Today: computeraservices.com/windows-10-comes-out-today/