Each year our city of NSB hosts one of the best jazz concerts in Florida, the New Smyrna Beach Jazz Festival. The dates of this legendary concert are September 22nd – September 24th 2017. This annual event takes tremendous planning and preparation by local promoter and booking agent Marc Monteson from Marc Monteson Promotions. Each year, locals and out of town visitors flock to New Smyrna beach to see their favorite jazz artists perform while welcome new ones.
This year the poster artist for the festival is Phyllis Shipley. With a wonderful array of colors and a flamboyantly playful style, Shipley delivers a perfectly delightful painting which embodies the essence of jazz. View Phyllis below proudly displaying her artwork next to Marc Monteson.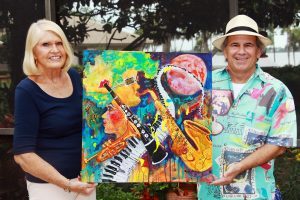 Featuring a large variety of artists from Florida and other places in the country they bring a collage of music flavors that are meant to resonate with even the non-jazz enthusiast.
The artists that are performing this year are Eirinn Abu, Tommy Bridges and the Vines Jazz Band Joe Young, Quartet featuring Carl Schultz, 2 members of The Glenn Miller Orchestra, The Scott Dickinson Trio, Orlando Sanchez, Alex Bodytko, Jacqueline Jones, Doug Spoonamore, Sybil Gage and her Catahoulas, The Conglomerate, Jaimie Roberts, Vivacity Trio, Abe Alum Trio, Ron Gilotti Trio, Ray Guiser, Time Out Duo, Valerie Gillespie Ensemble, the Rich Walker Band, Eddie Marshall's Tropical Jazz, Mark Clermont & Airtight, Ron Teixeira Trio, The House Cats, La Lucha, Annie Sellick, and The Joshua Bowlus Trio.
There is no shortage of outstanding artists performing this year and you may want to make advanced reservations for certain venues ahead of time. The full schedule is available here. Despite the hurricane (Irma) that is to arrive in New Smyrna beach this week we are hopeful that this does not disrupt the festival. For more information on the history of the New Smyrna Beach Jazz Festival and other resources please visit: nsbjazzfest.com.
Hosting NSB is very grateful to Marc Monteson for the opportunity and allowing us to assist in the promoting of this famous event through his website and social media. We highly enjoy being a part of this annual event in our native town of NSB.
Festival & Ticket Information: 386-423-9760 / nsbjazzfest.com
Accommodations: 1-800-541-9621 /visitnsbfl.com